We, engineer, design, fabricate and supply pollution control and environmental compliance technologies, principally for waste recovery, waste pollution treatment, and chemical processing industry.
Our manufacturing technology is based on innovative research and a thorough knowledge of process control and application technology.
Throughout the years, we have managed to build up wide marketing network to serve our customers who are in wide spectrum of industry,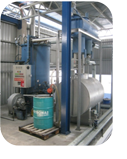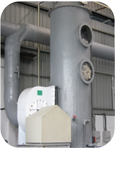 Our Primary Manufactured Equipment including, but not limited to
Dryer
Filter Press
Carbonizer
Steel and Titanium Tanks
Pressure Vessel
Scrubber
Jacketed Reactor
Clarifier
Our Capabilities:
Engineering Design & Technical Support
Well-equipped Manufacturing Facilities
Installation & Start-Up Assistance
After Sales Services
After Sales Services


Preventive
is always better than cure. The reliability and efficiency of your equipment ultimately depends upon your maintenance effort. We offer preventive maintenance agreement for you, which helps you find equipment problems before they cause failure, leaving you with least repairs and less unscheduled downtime. Our maintenance agreements are tailor made service contracts to meet your specific demand which create a win-win situation.