We, engineer, design, fabricate and supply pollution control and environmental compliance technologies, principally for waste recovery, waste pollution treatment, and chemical processing industry.
Our manufacturing technology is based on innovative research and a thorough knowledge of process control and application technology.
Throughout the years, we have managed to build up wide marketing network to serve our customers who are in wide spectrum of industry,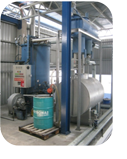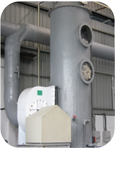 Our Primary Manufactured Equipment including, but not limited to
Dryer
Filter Press
Carbonizer
Steel and Titanium Tanks
Pressure Vessel
Scrubber
Jacketed Reactor
Clarifier
Our Capabilities:
Engineering Design & Technical Support
Well-equipped Manufacturing Facilities
Installation & Start-Up Assistance
After Sales Services
Well-Equipped Manufacturing Facilities


With the well-equipped manufacturing facilities
at our in-house workshop, we have been able to cater to the distinctive requirements of clients by offering them a wide range of equipment manufactured as per the industry set quality parameters.
Features:
Leakage-proof
Long services life
Accurate dimension
Easy Installation
Robust construction
Reliable performance